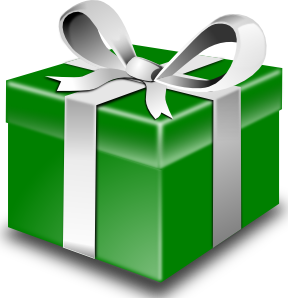 Everything that can be counted does not necessarily count; everything that counts cannot necessarily be counted.
Albert Einstein
I like presents.
Primarily, I like giving presents. Finding
just the right thing
for just the right person is a true joy.
I like to wrap presents, and tie pretty bows and hand-stamp the tags.
I like to make presents. Duct tape wallets, fuzzy fun fur scarves, purses, pictures, soap, hot fudge, cocoa mix, cheeseballs.
And I will freely admit that I like getting presents, too. While I'd like to think that I am not materialistic, I realize that I do like things. Not lots and lots of things, but pretty things, useful things, things that someone else has picked out for me that are
just the right things
. And my tastes are simple. Books. Pictures. Yarn. Crafty things. Antiquey things. Basically, anything anyone gives me is deeply appreciated, especially hand-made things, which I love to display, and have even been known to frame.
But what I don't like is a present just for a present's sake. Shopping just for the sake of shopping. Spending money because that's what the calendar and the commercials tell you to do. If you are one of those Black Friday shoppers, that's cool with me -- I like a bargain, too. But Black Friday shopping is not something I am comfortable with, as it seems to consist of two of my least favorite things in the world: crowds and conflict.
And, it falls at my
least
favorite time to be up -- sleep time -- on my
favorite
day of the year, the day I like to call Couch Friday.
Peace.