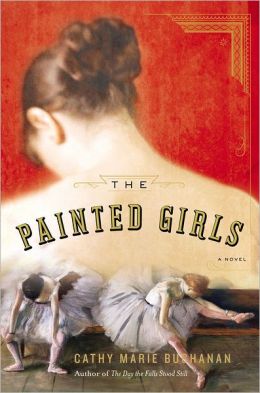 Maybe I'll try to do a book report every month. That sounds like a fine idea.
Maybe.
While I was working on my auction projects, I listened to
The Painted Girls
by Cathy Marie Buchanan. (yes, I did once think that listening to books was "cheating", but I was wrong: listening A) lets you do two things at once, B) gives you a different perspective on the novel through the emphasis of the reader and C) clears up any pronunciation problems you might have just reading. You know what I mean -- since no one ever said the word at my house growing up, I thought "penis" rhymed with "tennis." Now the question is, what books were I reading that had that word in them? A dirty little western romance passed around on the school bus and
The Happy Hooker
when I babysat the neighbor kids. Their mom was so cool.)
In the same tradition as
The Girl with the Pearl Earring
and
The Girl in Hyacinth Blue,
this book focuses on the ballet girls familiar from Edgar Degas paintings and sculpture. It's the story of the three van Goethem sisters who, after their father dies and their mother turns her sorrows to the absinthe bottle, survive however they can -- as ballet girls at the Paris Opera, modeling, working in the wash house and prostitution. It's rough, but a great story based on historical fact -- I love that, and so respect the authors who put so much time and effort into creating just the right world for their story. Plus, I love the chichi French accents of the readers (despite the fact that one of the readers also read the fiendish Amy Elliot Dunn sections of
Gone Girl.
Shiver.)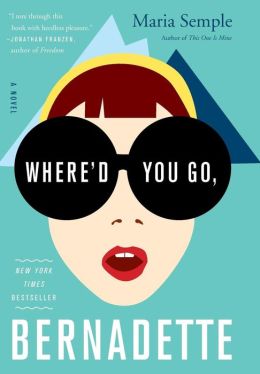 The only bad thing about an audio version is that when you find a great book, you want to devour it as quickly as possible, but you are forced to be patient as you listen (I did recently discover that on the iPod you can increase the reading speed, but that just sounds silly.) I am so glad I didn't have the audio version of
Where'd You Go, Bernadette
by Maria Semple -- once the last stitches were in my quilt, I sped through this book in a day and a half. Both of my girls had read it and told me I needed to, ASAP, and they were right. I'd say it's sort of a cross between
Gone Girl
and
Wife 22
-- a detailed/droll/tense story of disappearance with the benefit of email and social media. Some reviewers (one from the NYT) called this a humorous novel, but I don't get that. Sure, it is outlandish that their basement would be full of blackberry brambles, crazy that Bernadette put full confidence (and account numbers) in an online assistant from India, and funny that their neighbor was a complete satirical nutter who ends up with a house full of mud, but I got the shivers several times, wondering how brilliant Bernadette would survive the mess she found herself in and how her daughter, Bee, would survive Bernadette.
I am still working my way through
The End of Your Life Bookclub
, and toward that end, finished
Crossing to Safety
by Wallace Stegner. It's a lovely story about the long-lasting friendship between two couples. It's also the story about survival in the world of academia -- having married into a professor's family, all the publish/perish references and heartaches attached were familiar and true.
Up next, I'm going to work on another quilt and listen to
The Aviator's Wife
-- I'm a little anxious about this one, since I am a huge fan of Anne Morrow Lindbergh and
Gift of the Sea
. But I need to remember it's just a novel, right? And I am going to read
Ahab's Wife
by Sena Jeter Naslund. Rather, I am going to TRY to read
Ahab's Wife
-- even though I tried again recently, I am not a Moby Dick fan, and as you know, I am not a fan of 822-page novels.
Atlas Shrugged
. Whatever.
Peace
PS Last month was the 200th Anniversary of the publication of
Pride and Prejudice
, which calls for a re-read, as if a call were necessary. But I've been thinking lately that
Downton Abbey
fans should read
Sense and Sensiblility
-- the legalities associated with the inheritance of a British estate are addressed in that book, and I know that is something we Americans have a little trouble understanding about DA.