Now that school has started, I realized I didn't plow through as many books this summer as I usually do. The wedding, convention and re-decorating all played a part, but the biggest part of that problem was probably my book choices. No easy, beachy reads for me this summer; here are some of the intense books I read and loved: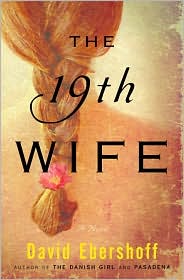 The 19th Wife
by David Ebershoff
If I were to go back to school, I think I would major in Religious Studies, because books like this drive me to the Bible and the research stacks. When my cousin, Tom, was in the seminary, he told me that the Church of LDS was a cult; I know he believed that they earned this label by professing the Book of Mormon to be the inspired word of God, but I have never been comfortable with that. I have never met a Mormon who was not the proverbial "salt of the earth" -- good and kind and loving. So, this book, and it's fictionalized account of Brigham Young's ministry, was a difficult read for me. Interestingly, the fictional modern-day polygamous community in this book (
First
Church of Latter Day Saints) was a lot like that of the Warren Jeffs community (
Fundamental
Church of Latter Day Saints); he just so happened to be sentenced to life in prison (plus 20 years) just last week. Timely, no?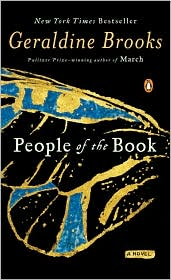 People of the Book
by Geraldine Brooks
If I didn't know better, I would swear this was non-fiction. It is fantastic, complicated and complex. It is the story of an ancient illuminated codex (Jewish family prayer book) and the scholarly detective work that goes in to proving its authenticity and trying to trace its historical journey. While reading this one, I had to study up on Yugoslavian history, the reign of the Habsburgs and the Inquisition (yikes! Brigham Young doesn't look so bad compared to some of those Spanish priests!) three areas I didn't know much about, I'm sorry to say.
This is a book for people who love books. Just read it -- I promise, you will love it. Once again, huge love to my friend, Pam, who recommended this one.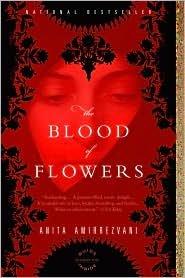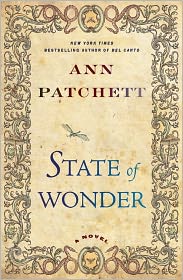 The Blood of Flowers
by Anita Amirrezvani
Beautiful and heartbreaking story of a young girl who knots carpets in 17th century Iran. Another historical era/area I know little about -- the reigns of the Shahs are fascinating.
As a person who spends a lot of time working with her hands and messing about with artsy crafty stuff, this book amazed me. The descriptions of preparing dyes -- from finding the plants and minerals to dry, grind and mix with acids, to the charting of designs to the intricate knotting of the rugs -- were incredible. And I thought following a latch-hook rug pattern and working with Rit dye was tricky! I have so much to learn.
State of Wonder
by Ann Patchett
Crazy, tangled story about love, ancient tribes and pharmaceutical morality set in the South American rain forest. Ann Patchett has been a favorite of mine since Pam gave me a copy of
Patron Saint of Liars.
She is an amazing writer, and I have such admiration for how she (and all these authors) takes important social questions, sets them into interesting historical times and far away places and creates a novel that I couldn't hardly put down. Read this one, too!
So now, I'm looking for another great book. Thanks to the nook, I've got samples of several highly-recommended novels to try. Maybe I should crack open the first Lord John book, as next weekend, Clay and I are headed to Atlanta to meet Diana Gabaldon! (I KNOW! How exciting!)
Peace.