I'll make this quick.
I've read a lot of books this summer, but here are my favorites. Crazy poignant, none of these will leave my brain.
The Invention of Wings
by Sue Monk Kidd. I was a big fan of
The Secret Life of Bees
(although not a big fan of the movie), but was hesitant about reading this one after
The Mermaid Chair
, which I wasn't crazy about. But I am glad I did, because this is a wonderful book, set in pre-Civil War Charleston, and tells the relationship between Sarah Grimke, a planter-class rich girl and the slave she was given on her 11th birthday, Hettie. The novel is based on the true story of Sarah and her sister Angelina, who became noted abolitionists and suffragettes.
The Museum of Extraordinary Things
by Ann Hoffman. This is a finely woven story about Coralie, a young woman who "works" in her father's museum (much like a Ripley's Believe it or Not), Eddie Cohen, a photographer who is estranged from his Orthodox Jewish/Russian immigrant father and the fascinating time they live in -- early 1900's New York City. Lots of history here -- the Triangle Shirtwaist Factory disaster and a massive fire on Coney Island. I've been recommending this one to everyone. (I listened to this one while sewing -- Judith Light is the narrator, and is fabulous.)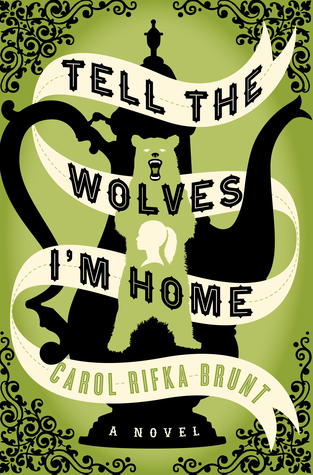 Tell the Wolves I'm Home
by Carol Rifka Brunt. I'm only halfway through this one, but it's so, so good. It reminds me a little of the other "artsy" novels I've read recently, in that a painting is at the center of the story. This one is set in the early days of the AIDS crisis. I need to finish this post and read some more . . . .
What's in my stack?
The Interestings
by Meg Wolitzer,
Darcy's Story
by Janet Aylmer (librarian recommended!),
The Boys in the Boat
by Daniel James Brown and
The Burgess Boys
by Elizabeth Strout.
The summer is never long enough for all the books we can read . . .
Peace.