In February, I read about a quilt-along on the
Crimson Tate Facebook page
, and thought I would try it -- it's been months since I've put a quilt together, I already had the fabric needed for the project, and since I've never done a quilt-along before, it sounded like fun. AND, you know I want to be just like Heather when I grow up. (Do cat-eye glasses come in bifocals?)
Early in 2013, I had purchased a layer cake of Mary Jane's Glamping fabric, and had planned to make this quilt: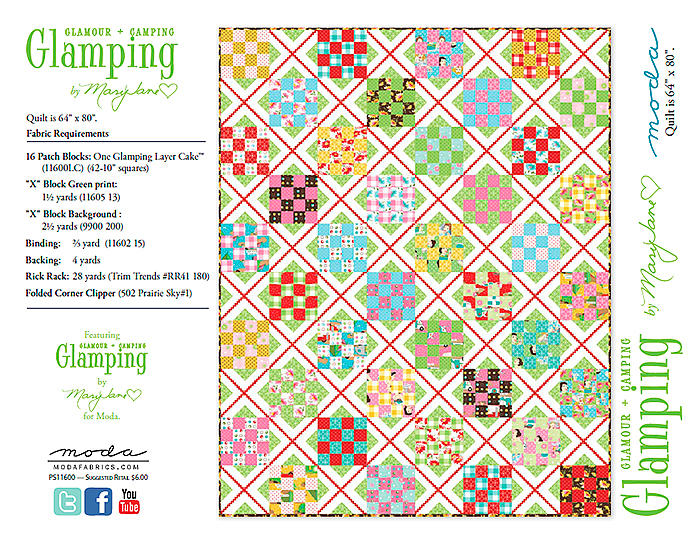 (You can find the pattern
here
, and I think you can still get the fabric at the
Fat Quarter Shop
and in several Etsy shops.)
But instead, I'm going to try to make the 20 squares that go into the sampler quilt designed by Amanda of
Material Girl Quilts
. Another motivation for sewing this quilt? I met Amanda when I was paying a visit to CT a few weeks ago -- I was telling Heather how I was planning to start the quilt along, and she told me that Amanda was going to be stopping in. And she did!
I was sort of star-struck. A real live blogger!
(I know. What's wrong with me?)
Anyway, the whole idea behind this quilt is that you start with layer cake squares. You choose two fabrics, place them right sides together, sew an "X", then cut each square into 8 half-square triangles. For each quilt block, you make two of these sets. (Don't worry - Amanda tells you just how to do it on her blog.)
The perfect tool for this project is the rotating cutting mat I bought a few years ago with a 40% off coupon at Joann's:
It makes very quick work of the slicing of the squares!
I haven't done precise piecing like this for a while, and I've had to do a lot of ripping and re-sewing. I also skipped one of Amanda's instructions and didn't square up each small square to 4 1/2" -- I guess I thought if I sewed accurately, it wouldn't be necessary. But it was. Let's face it -- I wasn't thinking, I just wanted to get a square made. Rip, rip, rip.
I learned my lesson, pressed and trimmed, I was able to finish the first 6 blocks:
Week 1:
Windmill
Week 2:
Flying Geese Variation
Pinwheel
Week 3:
Happy Star
Diagonal Stripe
I love the way 4 of these blocks came out, I am OK with one, but I really don't groove to the diagonal stripe. The block is nice, but I think my colors are wrong. I wish I had thought my colors out a bit more -- I'm currently stewing over color choices for 7 and 8, but I need to stew faster, because I'm a bit behind -- Amanda posted blocks 9 and 10 on Friday!
Peace.